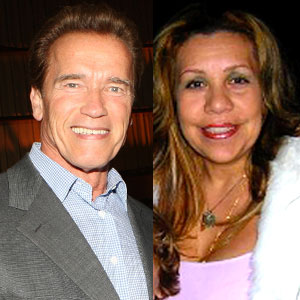 Should Arnold Schwarzenegger be worried?
We already knew that in the wake of his extramarital affair with a former housekeeper has led to wife Maria Shriver leaving the family compound and hiring a crackerack divorce attorney.
Now, E! News has confirmedthat his baby-mama mistress , Mildred Patricia Baena , has retained her own legal eagle.
Michael Saltz has come aboard to represent Baena, according to a spokeswoman for his firm, Jacobson, Russell, Saltz & Fingerman.
So far, the firm says, Baena has no plans to launch any litigation, but the rep declined to elaborate.
Why would she lawyer up?
Perhaps Baena wants to make sure Schwarzenegger lives up to his paternal responsibilities when it comes to their 13-year-old son. There have been reports that Schwarzenegger has provided money for the family, including the downpayment for their house , and with the scandal intensifying Baena might want to get a deal in writing.
Saltz (who is traveling and wasn't available for comment) has a backgroundas a prosecutor and has extensively worked in real-estate cases. But his firm also specializes in entertainment deals, which means Baena could be looking to cash in on her sudden infamy.
Or maybe she just wants to sue George Lopez 's pants offfor that sketch last night .