Chris Brown Back Off The Market?Now that Chris Brown has escaped jail time, sources say he has linked with his ex-girlfriend Erica Jackson. "She was there long before Rihanna and has stuck with him through his entire case as a friend".
He has also been connected with Natalie Mejia, from the reality show Pussycat Dolls Presents: Girlicious.
Representatives for Chris, deny that he is involved in any relationship at this time. They also deny that Chris Brown has released new music, stating "there are no 'new' songs from Chris Brown currently being promoted by Chris or his record label. There are several old demos circulating that are being falsely promoted as new material from Chris."
You Can Do Better Than That Ashanti
Ashanti made a huge career move when she scored the lead role as Dorothy in the production of "The Wiz". Is she broadway bound? No, not if the critics have anything to do with it. According to tough critics, "The Wiz" lacks that "special something" and Ashanti's acting doesn't help:
-The New York Times' Charles Isherwood mainly knocked the show, calling it "busily energetic yet full of dead ends", while describing Ashanti as "a pretty place-holder, an empty vessel in a sparkly dress."
-While Newsday's Linda Winer thought Ashanti's acting and singing was far from stellar. She says, "Ashanti proves not be a natural theater actor, and, even more surprising, her silvery voice sounds thin and bland against the pros".
-Not all of the reviews were negative. Ashanti managed to get a positive review from the Associate Press' Peter Santilli who called the musical a "lavish, well-balanced production" and really praised Ashanti's performance. Adding,"With wide-eyed charm and a can't-miss voice, Ashanti makes the role her own while distinguishing herself among a skilled troupe of singers and dancers."
That's okay Ashanti, the critics talked about Jesus Christ too. Worse case scenario you could always go marry Nelly and have some pretty babies with a band aid under their left eye.Terrell Owens = Major Fail
Terrell Owens embarassed himself big time!!! He was a contestant on ABC's "The Superstars" and made his team lose after he got stuck on the obstacle course. To make matters worse he was punked by a supermodel at the end. Poor T.O. hasn't been the same since the niners. Please remind me to never have him on my team for ANYTHING!
Michael Jackson Tribute
The BET Awards are this Sunday in LA at the Shrine auditorium and I hear they are scrambling to figure out who will do the Michael Jackson Tribute.
I nominate Usher and Chris Brown. Usher has the voice to do it by far, but Chris CANNOT be touched when it comes to dancing and stage presence…..Neyo may be a good touch as well.
I realize Chris Brown's tainted image could make it difficult for BET to grant him the tribute spot. Nevermind the drama, scandal and opinions for just one night BET…..let's give MJ a send off that even the Angels in Heaven will remember!
This Michael Jackson tribute has to be fierce and a reflection of his legacy, life, and art. It must honor him impeccably and leave a memorable and satisfying impression in the minds of viewers for years to come.
Weight Loss Surgery Reduces Cancer Risk in Women

1:00 PM
Weight-loss surgery, such as stomach stapling, could reduce cancer risk in obese women - but not men - according to new research.
It is widely known that obesity increases the risk of many types of cancer, but it was unclear whether surgery would cut the risk of cancer.
A Swedish study has found that female patients who had surgery were 42 per cent less likely to develop cancer. But there was no change to the incidence of cancer in men.
Scientists looked at a group of just over 2,000 Swedish patients who underwent operations to reduce their weight were monitored for an average of just over a decade as well as a similar sized group of obese patients who received standard treatment such as nutritional advice.
E! Bans Heidi and Spencer
It appears that the most of America is sick and tired of Spencer Pratt and Heidi Montag-Pratt.
E! conducted a poll and after an overwhelming vote, the network has placed a ban on "The Hills" villains.
An estimated 94% of those who responded to an E! poll said they were tired of seeing the couple's "self-promoting press" and wanted the network to stop talking about them. Network officials say they'll no longer cover "the misadventures of Speidi until the pair does something truly newsworthy."
I Love The Entertainer!
Hate him or love him, "The Entertainer", the 30-something who still lives at home with his parents, from I Love New York 2, I Love Money and I Love Money 2 is getting his own dating reality show which will air on VH1. Of course.
Casting will be held in Los Angeles, Chicago, New York, Atlanta, Phoenix, Boston, Vegas and the Jersey Shore, NJ.
Hopefuls are asked to e-mail their:
* Name
* Age
* City and state where you live
* Phone number
* Email address
* A recent PHOTO
* A brief bio telling us:
1) Who you are AND 2) Why you would be the perfect girl for "The Entertainer".
Send e-mails to: TheEntertainer@IconicCasting.com
Judge Rules on 'Real Housewives' Sex Tape
A judge granted "Real Housewives of New Jersey" star Danielle Staub's request yesterday for a temporary restraining order to stop her former boyfriend Stephen Zalewski from releasing a sexually explicit videotape and images of her , reports the Associated Press. State Superior Court Judge Thomas F. Brogan also ordered Stephen to produce all copies of the video and pictures of Danielle, and he set a hearing for July 21.
Probably Why Michael Jackson Died
Pop icon Michael Jackson died today. Although the circumstances around his death have not been confirmed, a close family friend confirms that Michael had a serious prescription drug problem and had many enablers around him.
"We are stunned," Brian Oxman, the Jackson family attorney told CNN moments ago. "The family is in a room by themselves. They are very quiet and they are sobbing." Brian confirmed speculations that Michael was highly medicated and was prescribed copious amounts of medications - even worst than the situation with Anna Nicole Smith.
"This was something that was not unexpected... because of the medications Michael Jackson was under," Brian told CNN's Kitty Pilgrim. "This family has been trying for months and months and months to take care of Michael Jackson. The people who have been surrounding him have been enabling him.
If you think of the case of Anna Nicole Smith was an abuse, it is nothing in comparison to what we've seen taking place in Michael Jackson's life." Brian said he feared this day would come. He said he warned the family, but no one would listen. "When you warn people that this is what's going to happen and then it happens. Where's there's smoke there's fire this is a case of abuse of medications unless there's another cause which I don't know about." He also says Michael was always in fine condition and he never saw him in any "weakened condition" during rehearsals for what was billed as his big comeback
Michael Jackson Is D E A D!
Michael Jackson is Dead!
Michael Jackson was pronounced dead by doctors this afternoon after arriving at a the Ronald Reagan UCLA Medical Center this afternoon by Los Angeles Fire Department paramedics in a deep coma after suffering from cardiac arrest. When paramedics arrived, Michael was not breathing. The circumstances of Jackson's death remain unclear.
Law enforcement sources told the LA Times that Los Angeles Police Department robbery-homicide detectives have opened an investigation into the death, though they stressed that there is no evidence of criminal wrongdoing. The detectives plan to interview relatives, friends and Jackson's doctors to try to figure out what happened. The L.A. County coroner's office will determine a cause of death. A Los Angeles Fire Department source told The LA Times that Jackson was in full cardiac arrest when rescue units arrived. Update [8:40pm]: Brother Marlon Jackson told CNN's Roland Martin a doctor was called to Michael's home last night after the singer felt ill.
A doctor checked him out and didn't see a need for him to go to the hospital. Marlon said he doesn't know what happened from last night until he was found lifeless this afternoon. Entertainment Tonight as published this photo they acquired of Michael being transported to the hospital.
Evander Holyfield's Home Faces Foreclosure - Again
PM Former heavyweight champion Evander Holyfield continues to face financial woes. His $10 million masion in suburban Atlanta is under foreclosure for the second time in a year. A legal notice published last week in the Fayette Daily News revealed the former heavyweight boxing champion is in danger of losing his 109-room Fairburn mansion. The lien holder is demanding full repayment of the original $10 million loan, with an auction scheduled for July 7 on the Fayette County Courthouse steps, reports the AJC . The 5,000-square-metre home — located on Evander Holyfield Highway — has 109 rooms, including 17 bathrooms, three kitchens and a bowling alley. It's worth an estimated $20 million and costs more than $1 million to maintain each year. Last June a similar legal notice was published which then lead to a foreclosure notice being issued for the 5,000-square-metre home — located on Evander Holyfield Highway — has 109 rooms, including 17 bathrooms, three kitchens and a bowling alley. However, before the home was auctioned off, he was able to reach a deal to keep the home. He also has defaulted on a loan for a second home and that's in foreclosure, too. That home, located at 592 and 596 West Bridge Road, had an original loan amount of $216,000.
Ever Wondered Why The First Aunt Viv Left?
Alfonso Ribeiro, who played Carlton on The Fresh Prince of Bel-Air , was speaking to students at the State University of New York, Oneonta this year. During the conversation he talked about Janet Hubert, who was the first Aunt Viv, before she was fired. He referred to a difficult person to work with and oh yeah, she was a crazy. To quote Alfonso, Janet was "cuckoo." Coincidentally, Miss Janet is writing a book, throwing Will Smith under the bus.
J Hudson Due Any Moment Now
Jennifer Hudson is About To Pop
For all the naysayers, Jennifer Hudson is either very pregnant or very fat. We'll go with the former. Now let's discuss this look from head to tow. On another note, lets not.
STFU Adam Lambert!
Rocker Gene Simmons thinks Adam Lambert, who confirmed he was gay earlier this month, should keep his mouth shut about his sexuality. He tells Life & Style magazine:
Mostly he should shut up about his sexual preferences. We, America, the rest of the world, really don't care.
Oscar Nomimee List Expands To 10
The Academy of Motion Picture Arts and Sciences announced Wednesday that the best picture category will be expanded from five nominees to 10. "After more than six decades, the Academy is returning to some of its earlier roots, when a wider field competed for the top award of the year," said Academy President Sid Ganis. "The final outcome, of course, will be the same -- one best picture winner, but the race to the finish line will feature 10, not just five, great movies from 2009," he said.
Chaos In The Haus Of Knowles?
As Beyoncè tours the world, rumors that momma Tina has come to wits end with Matthew Knowles' "controlling ways" have surfaced via this e-mail received by Destiny Child Rumors. The report claims Tina and Matthew have separated -- and living in separate homes. "My mother is a friend of Tina Knowles. They often go to the same nail/hair salon together and catch up whenever Tina is in town. Tina told my mother that her and Mathew have been seperated for at least a year now and are living in different homes even though they have kept their main house. Tina spends all her time running around after Beyonce and Solange and focusing on the clothing line which has kept her busy through the seperation. You won't see them getting divorced anytime soon and they also remain dedicated to supporting both of their daughters. Mathew's narrowmindness and lies have seen Tina turn her back on him and his dealings. She will always love Mathew but she can no longer live in his controlling ways."
Suprise, Suprise
A close friend of Tameka Foster Raymond is setting the record straight. Nyeisha DeWitt, who has been friends with Tameka for more than 20 years, wants everyone to know that everything being reported is not true. She tells Essence magazine that Tameka and Usher have not been separated for more than a year and, although she's in pain, Tameka still loves him. Furthermore, she claims Tameka wasn't after Usher's money. She defends Tameka by saying the soon-to-be-former-Mrs-Raymond built a successful styling business billing clients like Lauryn Hill and Usher (amongst others) roughly $500,000 annually. Here are some jewels from that interview. Essence:Is it true she first learned that Usher filed for divorce after reading about it? She didn't know that he was going to file. Of course, she knew that there were challenges in their relationship and had been some discord since March and was aware there were some things that needed to be worked through. But did she know that divorce was imminent? No. It was a total surprise.
R.I.P Farrah Fawcett
Farrah Fawcett, the "Charlie's Angels" star whose feathered blond hair and dazzling smile made her one of the biggest sex symbols of the 1970s, died this morning after battling cancer. She was 62. The pop icon, who in the 1980s set aside the fantasy girl image to tackle serious roles, died shortly before 9:30 a.m. in a Santa Monica hospital, spokesman Paul Bloch said. Ryan O'Neal, the longtime companion who had reunited with Fawcett as she fought anal cancer, was at her side, along with close friend Alana Stewart, Bloch said. "After a long and brave battle with cancer, our beloved Farrah has passed away," O'Neal said. "Although this is an extremely difficult time for her family and friends, we take comfort in the beautiful times that we shared with Farrah over the years and the knowledge that her life brought joy to so many people around the world." She had been diagnosed with cancer in 2006. As she underwent treatment, she enlisted the help of O'Neal, who was the father of her now 24-year-old son, Redmond. This month, O'Neal said he asked Fawcett to marry him and she agreed. They would wed "as soon as she can say yes," he said. Her struggle with painful treatments and dispiriting setbacks was recorded in the television documentary "Farrah's Story." Fawcett sought cures in Germany as well as the United States, battling the disease with iron determination even as her body weakened.
Mystery Virus Sickens T.I., Other Prisoners
Authorities say visits with inmates have temporarily been suspended at Federal Correctional Complex-Forrest City because of a viral outbreak.
The prison says visits have been temporarily suspended because of a number of inmates with a "suspected gastrointestinal virus." Prison officials say they don't yet know what's sickened the inmates, but that they don't suspect swine flu. T.I., who is serving a year long sentence on a weapons charge, is also housed at this prison and is rumored to be one of those sickened by the mystery virus.
A prison official says visiting hours will resume once the virus is contained.
As If We Didn't Know : From 3 to 56
A teenage girl who claimed 56 stars were tattooed on her face as she slept when she'd only asked for three has admitted she was awake the whole time - and lied because her father was "furious."
Belgian Kimberley Vlaminck said last week she woke up in horror to find her face covered in the stars of various sizes which spread out over the left-hand side of her head. She went on to blame - and threatened to sue - Rouslan Toumaniantz, the Flemish-speaking tattooist for not being able to understand her French and English instructions.
Another Unhappy Ending : Jill Scott's Story
After a year of engagement, Jill Scott has split from fiance Lil John Roberts. The singer/actress made the announcement to Essence yesterday and also talked about giving birth to two-month-old Jett and the prospect of raising him as a single parent.
Essence: Congrats to you on your new bundle of joy, Jett Hamilton. How has motherhood been treating you?
Jill: Wonderful. I named him after a black gemstone that my makeup artist in Africa had; it was simply called Jet, and I fell in love with it and the name because I thought my beautiful baby is a gem. I truly loved being pregnant and feeling what was going on inside my body and watching it change. It's difficult to recoup but still amazing nonetheless. I would have another one.
R. Kelly Scams African Locals
R Kelly will be questioned by South African police regarding allegations he was involved in an investment scam. Busisiwe Priscilla Zakwe, implicated R Kelly in an alleged investment scam that apparently swindled money out of more than 50 people in 2005.
Last March, State prosecutor Blackie Swart wrote a letter to R Kelly's agent Jason Miller lrequesting the singer to explain his involvement in the scam, but he didn't receive a response.
RHWNJ : Danielle Staub's Messy Criminal Past
"The Real Housewives of New Jersey" co-star Danielle Staub's may not be telling the complete truth about her past. She has admitted to be a stripper, changing her name, and chalked her arrest up to being at the wrong place at the wrong time. Nothing else.
Sources have uncovered the truth and it doesn't look good for Danielle: Staub, once known as Beverly Ann Merrill, was arrested by FBI agents in June 1986 for her role in a kidnapping plot that grew out of a cocaine deal gone bad. According to documents filed in U.S. District Court in Miami, Merrill and Daniel Aguilar, who distributed narcotics for a Colombian drug family, sought to extort a $25,000 ransom from a man whose son they were holding.
Is That Right?
San Francisco 49ers tight end Vernon Davis' interview with Honey magazine proves that men dont need to be gay to know fashion, even though some of his statements left a little to be desired.
For instance he carries a murse - a man purse. It must be noted, though, he doesn't wear high heels.
Honey: Most underrated/overrated designers? VD: Dolce, Gucci and Louis Vuitton make excellent accessories and leather goods, but it's usually hit or miss with me. I'll contradict myself here, but I got a chance to preview Gucci's menswear Fall '09 and woooo! An underrated designer, in my opinion is Salvatore Ferragamo the classic loafers and dress shirts mixed with their trenches is dope.
Honey: What are three basic items that every man needs to have in his closet?
VD: A Suit, Casual Dress Shoes, and a pair of crisp jeans. Do you see yourself diving deeper into fashion, joining a fashion house or interning like Kanye? I think if the right opportunity presents itself I definitely could see my diving deeper in. Maybe if I was to intern at a major fashion publication like GQ or Men's Vogue . Also I wouldn't shy from getting my own clothing line or becoming the face of a line. I've considered becoming an interior decorator full time once my football career is over.
K-Fed In Debt
Kevin Federline may soon need to hit Britney up for more cash masked as child support. Records show he owes the IRS $14,371. Which is typical of a lot of other people in Hollywood. Not surprisingly, the IRS has filed a lien against his company Gooseneck Productions Inc. on May 18 in the Los Angeles County Recorder of Deeds office. Although he is no longer rapping, Kevin is raking in thousands a month in child support , but he's probably too high or partying with strippers to have known he the IRS was looking for him. He knows now.
NO MORE AIDS?
Researchers from the newly-established VGTI Florida and the University of Montreal have uncovered a possible method for eradicating HIV infection in the human body. The researchers have also revealed new information which demonstrates how HIV persists in the body - even in patients receiving drug treatments - and how the virus continues to replicate itself in individuals undergoing treatment.
The research findings will be published in the online version of the journal Nature Medicine on Sunday and will be featured in an upcoming print edition of the journal.
Medical advancements in the past 20 years have significantly increased the survival rates of AIDS patients. In fact, approximately 90 percent of patients infected with AIDS can survive with the disease as long as they are treated with a complex series of antiretroviral drugs.
New Law on Cigarettes
Citing his own experience as a teenage smoker, President Obama said a new law giving the Food and Drug Administration sweeping power to regulate tobacco will help young people avoid the smoking habit he has struggled with for years.
The measure, which Obama signed into law Monday, will ban candy-, fruit- and spice-flavored cigarettes and prohibit use of tobacco-product logos and brand names in sponsoring athletic and entertainment events.
The law also requires that tobacco companies fully disclose ingredients and additives, stop targeting youth with their marketing campaigns, quit using terms such as "light," "low" and "mild" to market their products, and include warning labels on packaging that dominate the front and rear panels.
Tameka Foster Blasts Attorney
Tameka Foster Raymond is none too happy with Randall Kessler, her divorce attorney and she made it known on Twitter -- of course! Here's the tweet she sent to Star "I'm a Lawyer" Jones, then deleted after she recognized she made a blunder.
"RT @tamekafoster @starjonesesq
my lawyer = horrible. need the name/number of a good one in atlanta"
Kessler (pictured, inset) is a capable attorney who has represented celebrities and their baby's mommas. Earlier this year he represented Lashon Dixon, the mother of T.I.'s two sons, in her child support case to get more of the rapper's paper. He also represented former Denver Broncos running back and sperm donor Travis Henry this year in his bid to discontinue paying child support to his baby's mother. (Sidebar: Travis is rumored to have 11 children with different mothers and owes $11,000 in back child support and that just for two of those kids.)
Kessler told People magazine last week.
"We were hoping this case would be resolved privately, but since Usher filed it publicly we will have to respond."
Oprah Takes Staff & Fam To Spain

1:00 PM
It must be really, really, really nice to be rich and powerful. Oprah celebrated her 55th birthday by taking over a popular tourist attraction in Barcelona to hold a party for 1,700 of her employees and their families, Spanish media said Monday. Barcelona-based newspaper La Vanguardia said the guests are to spend three days in the northeastern Spanish city before being treated to a 10-day Mediterranean cruise. They will travel from Barcelona on the Norwegian Gem liner, which has space for 3,000 passengers, to Italy, Turkey, Greece, and Malta.
Nigga, I Will Cut You
Kedar William Massenburg, former CEO of Motown Records, was arrested last Wednesday, for robbery and assault after allegedly smashing a New Jersey police office in the head with a bottle and snatching his badge at B.B. King's nightclub in New York City.
This all went down when Officer Sean Bradforth - who was off-duty at the time - asked Joe for an autograph.
"I will fucking kill you!" Kedar, who is responsible for launching Erykah Badu's career, screamed after breaking a bottle over the officer's head and holding a shard of glass to his throat.
So It's Settled
So it looks like Chris Brown and Rihanna's assault case has been put to rest. Chris Brown plead guilty to one count of felony assault and as part of his plea deal he will have to serve six months community labor in Virginia. He was also ordered to stay 50 yards away from Rihanna for five years unless they are attending an industry event, then that distance is reduced to 10 yards. The judge explained to Rihanna that she too would be in violation if she came within 50 yards of Chris Brown. If he does he could get up to four years in prison.
Is Chris Moving On Too?
Chris Brown certainly isn't letting his legal problems get in the way of trying to put together a new album. Word has it that he's now trying to couple up with Keri Hilson for his new project.
"He contacted me like four or five days ago," Hilson said earlier this week during a promotional appearance at Wet Seal in L.A.'s Beverly Center Mall. "Us working together will probably be the first project I've worked on as a songwriter in a while."
This wouldn't be the first time for the two. They linked up on "Superhuman," plus Ms. Keri baby wrote "Young Love," a track on Brown's debut album.
What did Keri have to say about Chris putting the strong arming Rih?
"It is unfortunate what they are going through, but I always feel like if you've ever had a fan base, you're really only one song away from appeasing that fan base," she said. "Whether that song is autobiographical or whether you want to talk about that or not, you're just one hit song away. And that's what I think of the industry in a nutshell."
OJ's Ex Tells It All
While the ex-footballer OJ Simpson is locked away in prison doing nine to 33 years for armed robbery his ex-girlfriend plans to tell all about their life together in a proposed memoir.
The New York Post reports that Christine Prody who met OJ as a 20-year-old tourist from Minnesota when she stopped to gawk at his infamous Brentwood, California mansion has a book in the works to be called Spellbound: My Life With OJ Simpson about her turbulent relationship with the acquitted murderer, including 13 years of cocaine, pregnancy, abuse, jealousy, possessiveness, manipulation and rage.
"She says after he wore her down and made her have an abortion, he 'refused' to accompany her to the hospital," reports the Post . "He abandoned her, left her at the curb, made her go alone and then left for a game of golf, and she had to get one of his associates to fetch her. Page 9 of her book proposal refers to that as one of two abortions OJ made her have.
OMG Someone Robbed Aubrey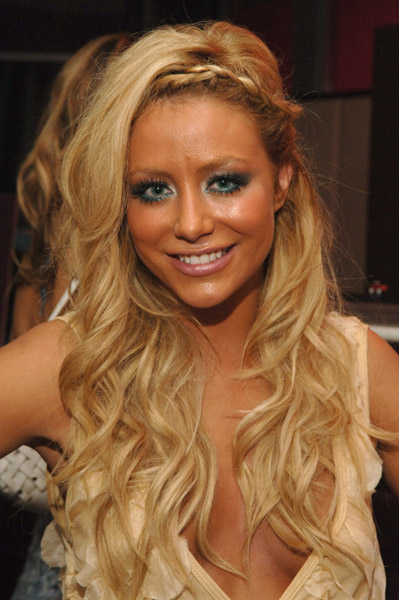 Playboy pinup & former DK member, Aubrey O'Day claims a robber stripped her of her clothing.
O'Day says she was robbed this week while on her way to film a segment for the TV Guide Channel. Aubrey says she was walking down an alley near the building when "someone ran behind me and stole everything I was holding" — including an expensive dress by designer Zac Posen.
Left without a proper outfit, Aubrey says she was forced to wear whatever the TV Guide people had handy.
This is a shameful publicity stunt if I've ever seen one. What robber runs by and steals someone's clothing?? All they want is money and jewelry…………and MAYBE the playboy magazine that she still totes around like the bible.
Mayweather Fight Postponed Maybe Cancelled
Many of you have heard that the July 11th bout between Floyd Mayweather Jr. and Juan Manual Marquez was cancelled due to a Mayweather rib injury. What many of you don't know is that sources have told me that the injury is due to slow ticket sales and if interest in the fight doesn't increase the fight may be cancelled altogether.
The current plan is to have the fight in September during Mexican Independence weekend, but if the "injury" doesn't heal the fight will be cancelled and "Pretty Boy" Floyd will have to find a new opponent.
The issue seems to be that nobody thinks Marquez can win the fight even though he is considered the #2 active fighter in the world. The biggest reason for this is weight. Marquez has never fought above 135 lbs, while Floyd has fought as high as 154 lbs. Maybe Floyd needs to pick on somebody his own size.
50 Cent Beefing With Wayne
50 Cent and the word beef have become synonymous. If you don't believe me just google the words "50 Cent/ beef" and see how many stories come up.
Now it appears that 50 may be preparing to start a verbal war with Rap Giant Lil Wayne. To me this is even more lame than his beef with Officer Ross
Ashanti's Opening Night
This past friday Ashanti's stint in the Broadway rendition of THE WIZ kicked off last night in New York City. And of course without a doubt Ashanti looked stunning in her glamourous ballet slippers…
Sparkling just as Dorothy should…
Of course her boo Nelly was there supporting her curtain call…
Even "ToTo" posed for the cameras….
Russell's New Eye Candy
Russell Simmons has been seen beating the red carpets with beautiful French model Noemie. Apparently these two are an item now. Good work Russy.
Dontrelle Willis On The DL, Disabled List That Is
For sports fans injuries to their favorite players are just part of the game. Sprains, breaks, and tears, are things that are known to keep players out of the game, but in Detroit right now something very different is happening. Former Rookie of the Year and current Detroit Tigers pitcher Dontrelle Willis formerly known as the "D-Train " has been placed on the 15-day disabled list (DL) with an anxiety disorder. This is a problem that millions of Americans deal with but only recently has it penetrated the normally macho professional sports world.
Willis was placed on the DL at the end of last year for the same thing, but this time he claims that he doesn't have it and he is just playing badly. The anxiety originally stemmed from Willis' inability to find the strike zone while pitching. This is where the story gets kind of puzzling . Forget baseball for a second and think of what you do for a living. If your boss is going to assume that every time you make a mistake that it is a previous anxiety disorder wouldn't it cause more anxiety?
Since anxiety is not a physical ailment it is much harder to prove then normal sports injuries, and maybe what Willis needs most is a vote of confidence from his team. Regardless of what is causing his struggles it is sad to see a player who used to have star potential suddenly play so terribly. Maybe his struggles will open the eyes of more people out there with anxiety disorders.
Jerimih's A Fag
Jeremih has finally hit the rumor web and has supposedly been romantically linked to male model, Keston Karter.
According to sources an anonymous person wrote:
"I don't know why your gaydar didn't go off but mine did in regards to this Jeremiah "Birthday Sex" guy cause I think homeboy is gay as day and the word around here was he used to mess with calendar model Keston Karter I told you about a while ago. I'm not 100% on that but you know I'm a hag and that's the tea my gay friends are buzzing about. Plus you know I told you about my male friend who use to mess with Keston."
Jeremih 's self-titled debut disc is due in stores on June 30th, but he will preview it on his Myspace page on June 26 for the fans.
LeToya Speaks : BET EITHER OR.
LeToya Speaks on Beyonce Rumor.
"It saddens me a little. Because our situation happened close to 10 years ago, and I think as we all know Bey is a very very very talented artist, and I think that we both have our own lanes and fanbase, and I don't see why I would have to be one of the ones picked out of the entire crew of females that will be hitting the stage that night. I don't know… I'm gonna try and word this right… I just don't understand why I'm picked outta that group because there are so many other female artists performin' that night and I think we all deserve to have a chance at that stage. Everybody works hard and we all have something different to offer, from Keyshia to Keri to Bey, everybody is different in their own ways so it saddens me if that's true, and I hope that's not the case but I'll be there regardless".
That's how you handle a CODE 10 situation
Bey Cancelled Tour Jump
Beyonce shocked the promoters of M2 a club in NY when she cancelled an appearance at the very last minute. Beyonce was getting paid $200,000 to sing a few songs and attend a party to launch her U.S. tour, but Beyonce pulled out this week, saying she was "too busy". I smell a set up for a lawsuit !
Beyonce's father says this whole thing stinks of horse maneur:
" The cancellation of the launch party for Beyonce's "I AM…" tour, first scheduled for this Saturday at M2, was a result of a breach of contract by the promoter. Beyonce never had a contract with the club itself and no one in her camp dealt directly with the venue. The superstar was never scheduled to perform but was to serve as a co-host and introduce singer/songwriter Solange's performance. Patrons were falsely promised a performance by Beyonce."
Will.I.Am Assaulted Me!
Shortly after midnight, Perez Hilton updated his twitter to claim Will.I.Am and his security guards assaulted him after the MuchMusic Video Awards in Toronto.
Chris Brown In Court
Chris Brown Due In Court Today
Chris Brown's appeal to delay the start of his assault case in the Los Angeles Supreme Court was denied by the judge recently. The preliminary hearing is still scheduled to begin on today, and Rihanna will be taking the stand to testify.
According to sources:
The California Supreme Court on Wednesday rejected an appeal by Chris Brown 's attorney Mark Geragos to postpone what could be an explosive preliminary hearing set for next Monday for the R&B singer, who's charged with threatening and beating his then-girlfriend Rihanna. That sets the stage for the dramatic reunion of the two former lovers as both are expected to appear in court Monday.
Geragos appealed to California's highest court after a lower court judge, Judge Patricia Schnegg, denied his motion to access the confidential personnel records of 25 Los Angeles Police Department employees. Gergaos was seeking the records prior to the preliminary hearing, hoping to find out who leaked a shocking photo of a badly-bruised Rihanna taken after she was assaulted, allegedly by Brown.
Breezy will face the music judge today to determine whether there is enough evidence against him to stand trial before a jury. He's facing charges of threatening and beating Rihanna's ass back in February.
Rihanna Sued By Neighbors
A man who lives next door to a house Rihanna rents in Los Angeles is suing the singer for ruining his lawn.
Don't laugh. This is serious.
In a lawsuit filed yesterday in Los Angeles Superior Court, Christian Moeller alleges Rihanna and her entourage use his lawn as a driveway and a parking lot.
Rihanna rents the mansion from Stephen Yacobian, who is also named in the lawsuit.
Yacobian made an agreement, called an easement, with Moeller giving permission for cars heading towards Yacobian's home to drive on a section his lawn, but since it's not the home has since been remodeled and Moeller claims the easement is now redundant and should be revoked.
Moeller also claims a security camera installed at the home points onto his property. Moeller is seeking unspecified damages for trespass, invasion of privacy and other claims . . . such as publicity for silly, stupid and frivolous lawsuits.
On another note: Who knew Rihanna had a LA home and when was the last time she was seen there?
Jeezy Wasn't Stabbed
Several sources are reported that Young Jeezy was stabbed at an Atlanta nightclub early this morning.
The fight, involving at least 10 people, broke out in the VIP area of the Luckie Food Lounge around 2:30 a.m., according to police.
Speaking with RapRadar, Jeezy says everyone in his crew is fine. However, reports say "Bama", a member of his crew, was stabbed and is being treated at Grady Memorial Hospital; two others were also stabbed during the brawl.
Folks are saying that you were stabbed.
Someone like who? Something happened to me?
Uh, yeah.
Hell no! Niggas stab me? Ain't no one dead is it? [laughs] Nah, we one hundred, quit playing. I'm a tell you something too man, you better quit listening to them TMZ ass dudes, man. Com'on man. These internet gangsta's — I mean, bitches. Nah, we good man. We one hundred. Everybody we left with was good. Club pretty much closed after that. I ain't see nothing so I can't tell ya. We had a ball man. We got up outta there.
YOUSANOBODY
Charlamagne's interview with Cassie and Red Cafe has been making it way around the Internet, but it isn't as newsworthy as many are claiming it to be. Some folks are saying he hurt her feelings or he was rude by calling her a nobody with a shaved head and nude pics, but Charlamagne has been consistent in throwing grease at Cassie and Puffy, this time it was just to her face.
What's really interesting though: Cassie reveals she's STILL dating the guy she took those nude pics for. Hmmmm. Wonder who that is.
Six Time Virgin
A Russian woman is in intensive care after undergoing vagina rejuvenation - to restore her virginity - for the sixth time.
The woman, identified as Natalia K., got married at 24 but she was not a virgin.
When the husband confessed he was upset about her losing her virginity before the wedding and with another man, Natalia decided to make things up for him.
To celebrate their first year together as a married couple, she went to a plastic surgery clinic and had a hymenoplasty operation.
The husband was so delighted with the present, that a year later Natalia wanted to give that joy to him again. And the next year, and the year after that.
The sixth time the woman came for revirgination surgery, the doctors warned her it posed dangers for her health. Nevertheless, Natalia signed a waiver of all claims and had the surgery done.
But the doctors' fears turned out to be justified. The woman's weakened immune system failed to fight an unspecified minor infection she caught after the surgery, and landed her in intensive care.
International HO
R Kelly's alleged reputation may have preceded him in London. He was accused of having sex with underage girls and hoarding child pornography; He was found not guilty on those charges a little more than a year ago.
At the Mo*vida's Belvedere IX launch party in London Wednesday night, he tried to pick up a young woman and invited her back to his hotel room, but she was not having it, according to the London Paper.
"Come back with me to my hotel. It's only seven minutes away. I haven't invited anybody else back. Well... maybe one or two girls... I want to make you feel good, like you never have before. I'm for real," the paper said he told the young woman.
After the girl refused his invitation, R Kelly reportedly rubbed her back and pulled her hair while asking her: "Do you like that? It's pain, but it's good pain, isn't it?'"
It's Over Now
As you've probably seen by now, TLC has been airing promos for Monday's episode of Jon & Kate Plus 8 alluding to a major announcement.
Well, it doesn't take a rocket scientist to know that that announcement will be the couple - who have been married for ten years and have been leading separate lives - will be coming out of the closet with their current truth: they hate one another and will be getting a divorce. And according to spies, Jon is looking at apartments in NYC.
Killed By Trannies?
David Carradine's mysterious death has people scratching their heads. His ex-wife said he was a sexual deviant, now a friend of the deceased is claiming David was drugged then murdered - by transsexual hookers!
"David Carradine was murdered... I strongly believe Ladyboys are responsible. Ladyboys operate in pairs. David would not have stood a chance. They can be very brutal," David Winters told the Globe.
Ted Gunderson, a retired FBI agent is also under the belief that these trannies are responsible.
"I believe he met two Ladyboys in the hotel bar... They are flirtatious, desperate for money and would have zeroed in on a celebrity like Carradine," he said.
Gunderson is convinced the hookers drugged Carradine, hung him and then set about staging what would look like a suicide.
Freeman A Pedo?
Morgan Freeman's marriage of 25-years allegedly ended over an ongoing affair that the actor had with his 27-year-old step-granddaughter E'Dena Hines. Hines is the granddaughter of Freeman's first wife…and he has reportedly been fooling around with her for the past 10-years.
Hmmmm…. so let's do the math, if Hines is now 27, that means that Morgan Freeman was messing around with a minor?!?!
Tameka's Spyin' Ass
The marriage between Usher and Tameka started off on shaky grounds, and now more details are emerging - via the divorce filings.
According to divorce documents filed by Usher on Friday and obtained today by sources News, the couple has been separated since July 2008 -- meaning that while he is seeking a divorce nearly two years after getting married, he and his estranged missus logged a mere 11 months together as husband and wife (loyal or otherwise) before going their separate ways.
"The marriage between the parties is irretrievably broken," read the documents, filed in Georgia's Fulton County Superior Court.
"There is no reasonable hope of reconciliation."
That's one opinion. Wonder what the detectives apparently hired to trail the singer think…
The "Love in This Club" singer is seeking a full rundown of all documents his missus has kept during the course of their marriage, which began when the duo tied the knot in a quiet civil service Aug. 3, 2007.
No Sex For Lenny
Singer Lenny Kravitz has been quite a ladies man, bedding the likes of Kylie Minogue, Madonna, and Nicole Kidman. But, he's sworn off casual relationships - which includes sex - until he find the woman he can marry. So, she's been looking and looking and looking and she hasn't come in four years. Yup, he's been celibate for four years and counting.
But, he's praying she comes soon because he's horny it's driving him mad.
"It's very hard. For some periods of time it's easy, and then it's really hard. It goes back and forth. It's not hard just walking through life, and you see women, and I admire them – I love being around women. But if you're seeing someone, you've got to explain, 'Well this is what I'm doing in life – so that's not going to be a part of it'," he said. "Right now I'm just kind of sailing and watching and waiting and trying to be patient. There are times when I'm patient and there's times when I'm, 'Come on, Lord, bring this for me…'"
So, groupies, Lenny is looking for wifey.
For The Love Of Ray J 2
As if we thought Season 1, his search for love really was gonna work. Why won't he put what he is really looking for on the show?
Ray J will sift through another gaggle of women to find one suitable girlfriend as part of VH1's newly-announced "For The Love of Ray J 2."
During season one of the reality show, Brandy's little brother chose Cocktail - but, as expected, the relationship didn't last.
So again, Ray J will be "looking for women with confidence, personality and class that can handle the pressure of being with a superstar and turn him into a one-woman man."
Viewers and fans will have until July 10 to submit themselves for consideration at rayjcasting.com.
C.Milian's MAXIM Photoshoot
Christina exposes her freaky side in this edition of Maxim. She says she likes to keep her relationships exciting by role playing donning a sexy maid outfit which comes fully equipped with mittens and a robe.
"I try a little bit of everything. I'm all about keeping the excitement in the relationship. That's why I sing songs like 'Dip It Low.' When I'm with somebody, I like to keep it exciting."
Will & Jade Are F R E A K S
This morning Jada Pinkett-Smith was on The View and the co-hosts asked how she and Will Smith keep their 12-year marriage fresh.
Jada confessed that they're both adventurous and they'll have sex on the kitchen table - but not on their kitchen table.
Taking that a little further, she tells Redbook magazine that she and Will love to have sex in other people's homes.
"Be sneaky... your girlfriend's house at a party. The bathroom. A bedroom," Jada said. "Think of places outside that are comfortable to have sex. Does he have access to his office? Have a fantasy date. Be his secretary, anything it takes to keep the flame alive."
Keeping that flame alive doesn't exclude sleeping with people of the same sex.
Fidel Castro's Son Has Online Affair With A Man
A Cuban activist from Miami reportedly duped Fidel Castro's son into a six-month online romance by posing as a woman.
Luis Dominguez, 46, posed as "Claudia Valencia," a 20-something Colombian woman flirting with Antonio "Tony" Castro Soto del Valle, according to ABC News.
Dominguez and Castro exchanged e-mails, chatted online, and once streamed a live Web video. They had spoken to each other about 45 times between September 2008 and February 2009.
Dominguez, who is an advocate for human rights concerns in Cuba, posed as a woman to obtain information about the elder Castro's declining health. He said he got the idea when he saw Tony Castro at a baseball game in Cartagena, Colombia. After the game, there were "hundreds of girls taking pictures" with Castro, who was giving out his e-mail addresses and phone number, and inviting women out to nightclubs.
Dominguez says that Castro has been living a lavish life compared to his fellow countrymen who make, on average, $20 a month. While Castro has regular access to a BlackBerry device, a computer, and the Internet, most Cubans do not have such access. According to ABC News, only about one in eight homes have a phone.
Just For Laughs : Jaime & Halle Kiss
When Jamie Foxx presented Halle Berry with the Hottest Girl On the Planet award at Spike TV's 2nd Annual Guy's Choice Awards last month, the two then proceeded to make out. (He grabbed her ass while she grabbed his crotch.) It was all staged.
"It was a joke. First, I want to let everybody know that I respect Halle Berry and I respect her relationship. But after she won the (2001) Oscar, Adrien Brody came up and laid a little tongue on her. So she decided to get me back, which I didn't mind at all," Jamie said. "I almost froze but I said, 'Think quick Foxx,' and I got into it... she really gave it to me and I appreciate that."
Bruce & Ema BARE It All
Bruce Willis, 54, and his wife Emma, 34, get their modelling on in the July issue of W magazine.
Shot my photographer Steven Klein, the photos show the newly weds in a new light.
The couple met at the Los Angeles gym of their trainer, Gunnar Peterson, in 2005. Her lithe frame and understated beauty caught Bruce's eye, but at the time, she was engaged to L.A. nightlife entrepreneur Brent Bolthouse, so the two became merely friendly acquaintances. Two years later, Emma's relationship had ended, and in fall 2007 she was preparing to leave L.A. "We went on one date, on the Friday before Emma was getting ready to move back to New York, and then we fell mad crazy in love," says Bruce. "When you think about where are you going to find that big love of your life, you seldom think it's someone you already know. You think it's someone you're yet to meet." Adds Emma, "I had never really dated. I've always been a relationship kind of person. But in that phase of my life I was like, You know what, maybe I'll just date, see what it's like. And I lasted one date." Ever since, the two have been practically inseparable, often traveling together to her modeling shoots and his film sets, bouncing back and forth between L.A., where Bruce's three daughters live, and New York, which they both prefer.
The couple scoffs at the allegations made by the New York Post that Bruce had handpicked Emma during casting for his 2007 film Perfect Stranger because he was single and looking around. While Emma did indeed score a small role in the movie, she and Bruce say they were hardly, well, strangers by that point, having known each other prior to the film's production. Emma has since concluded that acting is not her thing—something that her husband finds "refreshing."
Instead, she plans to stick to modeling, a profession in which she's enjoyed success through campaigns for Gap and Victoria's Secret, among other brands.
First Gay Couple To Get Married in NY.
Two men became the first same-sex couple to marry in New York. But there's a story here: gay marriages are illegal in NYC.
Hakim Nelson (pictured, right) and Jason Stenson (left) married on May 26 with nary a raised eyebrow among the oblivious city bureaucrats who not only OK'd the marriage license, but conducted the ceremony, despite gay marriage being illegal in the state.
Nelson -- who goes by the name "Kimah" and hopes to one day have surgery to become a "full female" -- wore an orange dress and white leggings, his straight, brown hair falling to his shoulders.
The gullible clerk didn't seem to notice that both Nelson, 18, and Stenson, 21, have male first names.
They both had to present identification to obtain the license. Stenson used his state ID card, and Nelson gave a state Benefit Card, which he uses to collect food stamps.
Charles Manson Reincarnated
Tyler Hayes Weinman, 18, was charged Sunday with 19 counts each of animal cruelty and improperly disposing of an animal body and four counts of burglary related to the deaths.
In the past month, residents in the Palmetto Bay and Cutler Bay neighborhoods have reported finding the bodies of more than two dozen cats. Police said some were likely killed by dogs. Some were missing fur - neighbors said some had been skinned - and appeared to have been cut with a sharp, straight instrument, police said.
for full story google : Tyler Hayes Weinman
Raheem DeVaughn "The Art of Noise"
DeVaughn is currently in the studio working on his next full-length album now, which should be out sometime later this year.
Rihanna Sex Tape Leaked
We've been hearing rumors of a Rihanna/Chris Brown sex tape now for months, and this week there is finally a video circulating the web which claims to feature the "Umbrella" singer in various compromising positions.
Last month Rihanna was left red-faced after nude photos of her were leaked online, so we can only imagine how embarassed and upset she would be if this video proves to in fact be legitimate.
Below is a clip of the alleged sex tape featuring Rihanna. It is only a clip, but the caption claims that more of the video will be released on June 22. Interestingly, June 22 is also the same day Chris Brown is due to appear in court. Rihanna will also be at the hearing.
So what do you think, is it Rihanna or a look-alike?
*WARNING: VIDEO IS NSFW!!!
http://www.hollyscoop.com/rihanna/rihanna-sex-tape-leaked_20560.aspx
ROFL at the 22th?
Spectacular Posing For Gay Mag?
Gay men publication, FlavaMen magazine is said to be offering Pretty Ricky's Spectacular $100k to pose nude for their magazine. The mag is targeted at adult gay men, but they say they've had plenty of heterosexual men pose for their covers in the past.
No word yet as to whether Spec has/will accept their offer but we all know that $100k is sounding mighty tempting to him right now considering Pretty Ricky isn't exactly raking in the dough.
A Letter From Remy
Been a little over a year since Remy Ma or Reminisce Smith was thrown under the jail for eight years after being convicted of assault, illegal weapon possession and attempted coercion after shooting friend Makeda Barnes Joseph in the abdomen outside a New York nightclub in July 2007.
In a letter to her fans Remy says she's innocent and writing a lot of rhymes.
I always find myself thinking about what I was doing a year ago, two years ago, five years ago today. I never remember exactly where till I find myself imagining where I would be today. I rarely listen to the radio because it's sort of depressing. Not being able to record is stressful not because I'm a rapper but because that was my way of venting and expressing myself. So I write a lot! So much that now I have a callous on my finger from holding a pen. I guess I got used to texting my rhymes!
I get a lot of fan mail and everyone asks me how I'm doing? I say fine, the way I see it I never imagined making it this far with my sanity. Not being able to go somewhere when you want, see your family when you want (on many occasions when you need to), can't use the phone, take a shower, wear clothes, or even eat when you want - super aggravating. Whenever, which is almost everyday I get visits, a lot of kids ask for autographs. It's something that I used to do almost everyday but now it actually feels weird, I really feel like an inmate. And as much as I hate to admit it, I really am an inmate. I mean, it kind of grows on you when certain people go out of there way to make you feel like that. They have this program called YAP (Youth Assistance Program) they keep asking me to join. It's a program that brings inner city kids to the prison to show them what it's like to be incarcerated. I hear that every group asks about me but I'm a little hesitant to join. They think it will give the kids a reality check that this can happen to anyone. I however feel that it'll be more of the kids wanting to see Remy Ma the rapper and because of that they won't get that I'm actually in jail. So I'm still contemplating. If I figure out a way for them to actually get it, that this is really not a place you would ever want to be whether for 8 years, 8 months, or 8 minutes then I'll do it. Everyone in prison isn't innocent but everyone in prison isn't guilty. So whether you end up here on purpose or by accident, the pain you're feeling is still the same. And I can quote a lot "gangsters" by saying that "I wouldn't wish this on my worst enemy…"
Forever Innocent, Rem